Standout Field Marketing announce new partnership with Danone
25 October 2021
Author: Linzi McGuire
Standout are proud to launch a new partnership with Danone UK to build sustainable growth in Grocery and Impulse
[UK, October 26th] Today, Standout Field Marketing, part of Avidity Group Ltd, is pleased to announce that Danone UK has selected them as its new field sales partner in Grocery and Impulse. The new partnership, officially launching on January 1st 2022, will create an ambitious Danone field sales team, focused on building sustainable growth through a localised approach for retail customers.
John Hoare, UK VP for Channel & Customer Development at Danone, comments:
"At Danone UK, we recognise how important it is to always be where our shoppers are. We must also be agile in our response to changing shopper needs in order to drive sustainable growth together with our retail partners. We have appointed Standout to support us in our commitment to deliver health through food to as many people as possible, and we're excited to be working alongside such a passionate and talented team.
We're confident this new partnership will unlock value for our shoppers and customers through fantastic availability and execution of our purpose-driven products and iconic brands instore."
Avidity CEO, Jill Ross, added: "I am delighted to announce our new partnership with Danone. Partnering with one of the biggest FMCGs in the world is an exciting prospect for Standout, our newest field marketing agency. Danone and Standout share the core value of being a people powered business, and it's exciting for us to be partnering with a brand so focused on health and sustainability, something that is closely aligned with our own vision and strategy. We're also excited to be working with Danone to deliver field teams across Grocery and Impulse that are powered by data analytics and agility, to deliver sustainable growth for Danone and their retail partners. We are proud to have won a very competitive process, demonstrating the strength of our proposition, vision and operation, and I am looking forward to a long partnership, selling more for Danone and putting their brands in the spotlight in-store."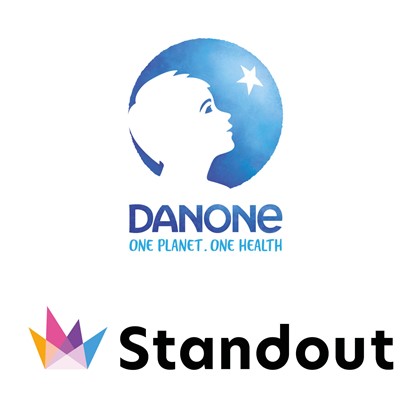 To learn more about our partnering with our Group, contact us
Who are Standout?
Standout put your brand in the spotlight.
Part of Avidity Group Ltd, Standout exists to help brands win in the new world – to deliver data-led, agile services that they need to thrive in a fast-paced and demanding environment.
They're challenging the market to be better, challenging their clients to try new and innovative services to get better results, and challenging the status quo when it comes to traditional field marketing and execution strategies. They do this to make the most of emerging opportunities and keep brands ahead of the curve.
Standout are at the cutting edge of field marketing, led by data, knowledge and results. Armed with a team of industry experts, they're built for the here and now – and for the hurdles of the future.
Want to put your brand in the spotlight? You've come to the right place.
Who are Danone?
Dedicated to bringing health through food to as many people as possible, Danone is a leading global food & beverage company building on health-focused and fast-growing categories: Dairy, Plant-Based, beverage and Specialised Nutrition. Danone aims to inspire healthier and more sustainable eating and drinking practices, in line with its 'One Planet. One Health' vision which reflects a strong belief that the health of people and that of the planet are interconnected. To accelerate the food revolution and create superior, sustainable, profitable value for all its stakeholders, Danone has defined nine 2030 Goals, aligned with the Sustainable Development Goals (SDGs) of the United Nations. Danone commits to operating in an efficient, responsible and inclusive manner, as reflected by its ambition to become one of the first multinationals certified as B CorpTM. With more than 100,000 employees, and products sold in over 120 markets, Danone generated €25.3 billion in sales in 2019. Danone's portfolio includes leading international brands (Actimel, Activia, Alpro, Aptamil, Danette, Danio, Danonino, evian, Nutricia, Nutrilon, Volvic, among others) as well as strong local and regional brands (including AQUA, Blédina, Bonafont, Cow & Gate, Horizon, Mizone, Oikos, Prostokvashino, Silk, Vega).
Danone is committed to leading the battle against climate change by putting climate actions even more at the core of its growth model, joining people's fight for climate and nature with the power of its brands. Danone is one of only 6 companies worldwide with a 'triple A' score by CDP in recognition of its leading environmental efforts to tackle climate change, fight deforestation and protect water cycles.
Listed on Euronext Paris and on the OTCQX market via an ADR (American Depositary Receipt) program, Danone is a component stock of leading sustainability indexes including the Dow Jones Sustainability Indexes, Vigeo Eiris, Sustainalytics, the Ethibel Sustainability Index, MSCI Global Sustainability, MSCI Global SRI Indexes, the FTSE4Good Index and Bloomberg Gender Equality Index.
Discover more about our agencies